DELIVERY
How often will water be delivered to me?
90% or more of all our deliveries fall on a 2 week cycle and some will be 4 week cycle depending on how far from our delivery center you may be.
Do I have to be home to receive my water delivery?
It isn't absolutely necessary to be home to receive your first initial set up delivery but it is highly recommended if we are placing a cooler in your home to assure proper start up procedures.  Improper set up can lead to damaging the dispenser in which you will be responsible for those damages.  You do not need to be at home to receive regular deliveries. Just leave your empty water bottles at a pre-arranged location and we will replace them with your new delivery.
Do I have to lift anything when my delivery arrives?
We recommend you are home for your first delivery especially if you have ordered a water dispenser. If you are a big bottle customer who ordered a dispenser, we prefer the driver sets your water dispenser and water bottle for you to ensure that it is working properly. He or She will also show you how to replace the bottle when it is empty. If you need help during one of your regularly scheduled deliveries and are home to receive your deliveries, your driver will be happy to assist you with replacing an empty water bottle with a full one or moving any of our products.
Can I change the number of bottles I receive per delivery?
Absolutely. We know things change, that's why you can change your order at any time without penalty. Feel free to call our office or modify your account online or by contacting customerservice@mountainoasiswater.com.
Rescheduling, Adding, Skipping or Suspending Deliveries.
If by chance you are going to be out of town during your delivery and/or do not need a delivery you can contact us by phone or email us at customerservice@mountainoasiswater.com.
MANAGING YOUR ACCOUNT
If you decide to create an account, you can manage your account online 24 hours a day, 7 days a week. After you receive your first delivery, you can manage your account online, where you can check your upcoming delivery dates, view invoices, pay the bill, and adjust billing information.  It's a great time-saver!
BOTTLE USE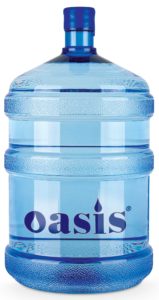 Our Bottles are to be used for Oasis Water ONLY.
To avoid any cross-contamination, please do not use the bottles for other beverages like juice or alcohol punches.  Some people even think that it's ok to fill with other safe water sources but that too can contaminate the bottle with bacteria. Bottles are not to be used to store hazardous chemicals or materials e.g. cleaning chemicals, fuel, pesticides fertilizer etc. Failure to comply with these guidelines can result in loss of deposit and a charge for a replacement bottle.
DEPOSITS AND FEES
What is your bottle deposit policy?
We charge a standard "One Time" bottle deposit for every 3 and 5-gallon water bottle that is initially delivered and the only time that you will be charged another deposit or credit the deposit back is when you either increase or decrease the number of bottles you have on site.
Do you accept other competitors' bottles?
It is against State Regulations to bottle our water in containers that specify a different product other than Mountain Oasis Water.  Therefore we cannot take them as credit but we can collect bottles from other companies and recycle them for you if needed.
OUR WATER
How often do you test your products? What do you test for and how do you maintain water quality?
We evaluate our products through a comprehensive quality assurance program based on State of California FDA Standards. This includes rigorous testing of the quality of our bottled water products, from source to bottle. We perform multiple tests per day on each production run to safeguard the quality of our product. Our daily testing includes Total Dissolved Solids (TDS), and Ozone concentration levels.  Our typical TDS level when bottled is between 0 and 2 TDS which exceeds the State Standard of 10 TDS to be considered "Purified".  Bacteriological Examination occurs Weekly on our product water itself and Quarterly Bacteriological Exams on the Bottles and Caps.  Annually our product is sent to an Independent Lab for a full comprehensive breakdown of all possible contaminants including, all Inorganic Chemicals, Volatile Organic Chemicals, Synthetic Organic Chemicals, Water Properties, Disinfectant, Radiological Contaminants, and Minerals
How long can unopened bottles of water be stored?
Bottled water can be used indefinitely if stored properly, but we recommend no more than two years if kept in a controlled environment.  We also recommend you consume the water within seven (7) days after opening.
If you decant the water into another container, please ensure that you are decanting into a clean container, then reseal the water bottle.
If using a Dolphin or Brio manual pump , it should be cleaned and sanitized before being inserted into every new 5-gallon bottle.
How should I store the water?
Bottled water should be stored in a cool (i.e. room temperature), dry environment away from sources of odor, such as household cleaning products, solvents such as gasoline, paint thinners and other toxic or odorous materials, and away from direct sunlight or prolonged freezing temperatures.  A partially consumed bottle should be capped when not being consumed.
What is cooler service?
Our cooler service program provides our customers with worry-free use of a water cooler. If your cooler stops working, simply contact us and we will make every effort to adjust, fix, or replace the dispenser as quickly as possible, usually by the next business day or, if it is a more minor issue, on your next delivery. That's why we say, our cooler service program is more than just a cooler rental; it's truly a no-hassle, worry-free solution. Cold or hot great tasting water will always be available when you need it.
Cooler service billing
If you are a Package Plan customer, your cooler service fee may already included in your monthly bill. Otherwise, Cooler service is billed once per month in advance (your cooler service fee at end of each month is for the next month's cooler service). Your first invoice from us may include a pro-rated charge for the current month.
How do I clean my water cooler? How often should I clean it?
We recommend self-cleaning your dispenser every six (6) months.  It is very simple and we can walk you through it by phone or on site during your scheduled delivery.